As a child of the '80s, I was as much a
Top Gun
fan as the rest of my college friends. Yes, I admit to thinking Tom Cruise was hotter than Hades--no,wait, I never really thought that--and even had a fondness for Val Kilmer, even though he was the baddie.
(*cue* "Take My Breath Away....")
But holy cow! What has happened to those two?
Well, I know what happened to Mr. Crazy--er, Cruzy--er
Cruise
...but what about Mr. Kilmer? He was so hot in
The Doors
. And I loved him in
Willow
, too.
But, look at them now! Eeeeegads.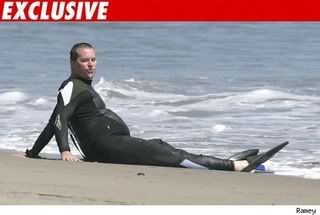 (Yes, that is Val Kilmer, April 2007, looking like a frigging beached whale. This photo is exactly what prompted this blog entry.)
And here's Mr. Cruise, who looks like he needs some...er...support. Not to mention a haircut, a bride who doesn't look like she's trapped, and a new religion.
And, okay, just for fun, I have to post this. It's a classic! (I'm still wondering why Oprah didn't give Tommy boy the same treatment she gave James Frey. Jus' sayin'.)
So, er...admit it. What do you think of Tom Cruise? And when did you fall off the Val Kilmer bandwagon? About the time he went bad-ass and blond?